With six rockstar siblings, it can be hard to live up to the family name. Not so for Shakeology's seventh phenomenal flavor, Café Latte. What inspired this new creation coming your way on January 11th? You can order yours right away at www.pearleneutley.com or www.shakeology.com/pearleneutley
A survey was done among us, coaches and general shakeology drinkers, and they discovered that most of us enjoy coffee and that many of us do enjoy Shakeology in the mornings. They put both together and--- this happened!
Original Co-Formulator of Shakeology, Darin Olien, spent more than ten years researching Whole Coffee Fruit. I love Darin's latest book, "Super Life" which I highly Recommended to my clients looking for a healthier shift in their lives.
This coveted superfood is Café Latte's secret ingredient. Native to Mexico and India, it includes the Whole Coffee Fruit (not just the beans) which science has revealed has chlorogenic acid, polyphenols and antioxidant properties.
"We thought, what if we could create the Latte flavor, but have it be healthier than coffee?" says Darin. "We found that the answer lies within the coffee plant itself."
Shakeology is delighted to have Whole Coffee Fruit as part of the Café Latte flavor formula, because in addition to its advantages, it also reduces our carbon footprint by using the Whole Coffee Fruit—not just the bean. And rest assured; you're getting the same protein blend and superfood profile as your other favorite Shakeology flavors.
Now for the question on everyone's mind: what does it taste like?
You are going to fall in love with the scrumptious coffee flavor.
It's certainly off to a strong start. Elite Beachbody Coaches had the exclusive opportunity to taste the newest flavor during the Leadership retreat and came back raving about it.
"Café Latte was formulated to taste like a light, creamy ice-blended latte," explains Jenn. "It isn't bold so it appeals to everyone—not just coffee fanatics."
When talking aroma, you can compare it to that of your favorite coffee shop. "Once you turn on your blender and inhale, your mouth will already be watering," she says.
And the best part? Not only will you get the great coffee taste, but the caffeine levels are similar to those in the chocolate Shakeology flavors.
That means no jitters—just nutritious energy.
Everyone is going to be craving the new Café Latte. Shakeology fans. Coffee lovers. Non-coffee drinkers. Even for those who may be getting bored with their current favorite flavor.
You'll have a healthier way to start their days with that great coffee flavor. "People are getting the familiar flavor of a Latte without the downsides of coffee," exclaims Darin. "How freakin' cool is that?"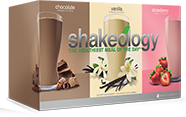 Here's some more good news to savor. There's a Barista Triple Combo Box that contains 24 single-serving packets of Chocolate, Vanilla, and Café Latte (8 packets of each flavor). It's perfect for when you're on the go, or when you want to mix and match flavors to make a Mocha or Vanilla Latte.
So get out there and take advantage of all the rich, new opportunities coming your way with the launch of Café Latte. I will be waiting for my first sip of this. Maybe in a mug, instead!
For more information, email pearleneutley@gmail.com